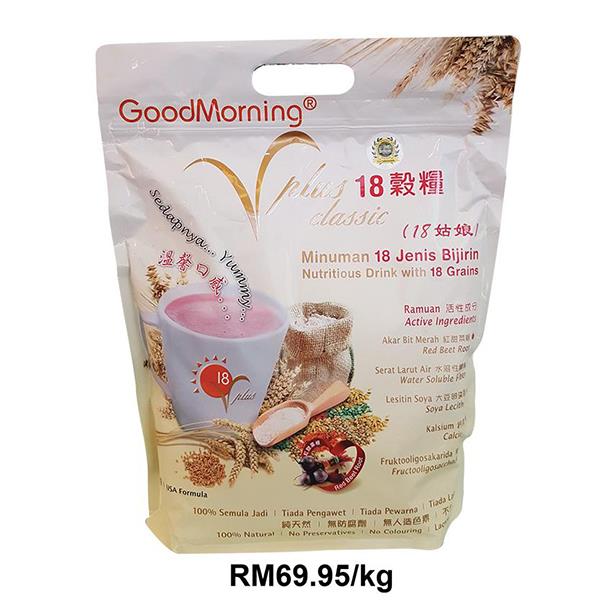 GoodMorning® Vplus 18 Grains 3kg Refill Pack
Nutritious can be Delicious, Healthy Grains, Happy Life! It is a breakthrough of whole grains with GOOD and YUMMY taste!
Product details : https://goodmorning.com.my/product/goodmorning-vplus-18-grains-3-kg/

5 UNIQUE INGREDIENTS

Red Beet Roots

The natural colour from the plant gives our beverage its pink colour.

It contains antioxidant and iron.

It helps in detoxification.

Seaweed Calcium

Helps to support development of strong bones and teeth.

Soy Lecithin

Enhances the function of the cells.

Prebiotic

Enhances growth of beneficial bacteria.

Water Soluble Fibre

Helps to support digestive system.
Health Benefits of Whole Grains

What

is

whole grains?

Whole grains consists of rice, oats, and nuts.

Whole grains, namely the brown rice, contains 100% nutrients of the entire seed of the plant including embryo, bran and endosperm/white rice.

While refined grains, namely the white rice, has its bran and germ removed, only 5% of nutrients (the starchy part) are remained.

Why do we need Whole Grains?

Grains are our staple food.

According to Malaysia Dietary Guidelines 2010, people are suggestable to :

a. Consume at least 4 servings of cereal foods daily

b. Choose at least half of grain products from whole grains

c. Choose cereal products that are high in fibre, low in fat, sugar and salt.

Note : People mostly choose to eat white rice as staple food during breakfast, lunch or dinner as it is soft compared with brown rice, which is rough and hard to chew.

"Studies show that eating while grains instead of refined grains lowers the risk of contracting chronic diseases. While benefits are most pronounced for those consuming at least 3 servings daily, some studies show reducing risks even if we take only one serving daily."

The benefits of whole grains most documented by repeated studies include :

Reducing risk of stroke by 30% – 36%

Reducing risk of type 2 diabetes by 12 – 30%

Reducing risk of heart disease by 25 – 28%

Good weight control

Other benefits indicated by recent studies include : –

reducing risk of asthma

healthier carotid arteries

reduction of inflammatory disease risk

lower risk of colorectal cancer

healthier blood pressure levels

less gum disease and tooth loss

Source : Whole Grains Council 2003-2013

VPlus 18 Grains with 5

colours of Phytonutrients + Oats
Who can consume?
GoodMorning Vplus 18 Grains is suitable for:
Benefits:

Child: Intelligence and nimbleness

Adult: Energy and strength

Elderly: Health and happiness

People who are aged above 12 months and especially good for those who have the problems of:

Directions for Use - Ways of consumption

a. Snack or Supper :

---

b. Meal Replacement

---

Certified by:

Last Updated @ 8/29/2018 6:24:43 PM
DELIVERY SERVICE
GoodMorning Global has appointed Nationwide Express Courier Services Bhd and Speedbox as logistic partner to provide better experience to customer.
AREA COVERED
The delivery currently is able to cover entire Malaysia (for more information please contact our customer service hotline 013-911-1818 / 09:00 am to 06:00 pm, from Monday to Friday).
Average Product Rating
0.0 stars out of 5
| | | |
| --- | --- | --- |
| 5 stars | | 0 |
| 4 stars | | 0 |
| 3 stars | | 0 |
| 2 stars | | 0 |
| 1 star | | 0 |
Share your thoughts with others
Write a review
Only buyers who purchased the product may leave a review