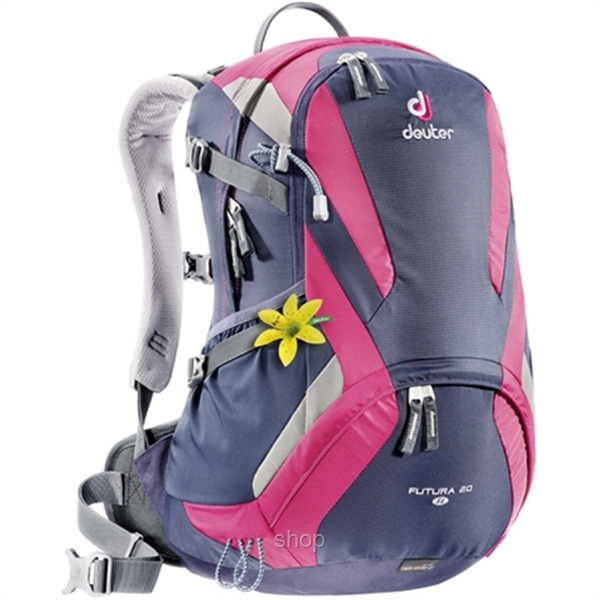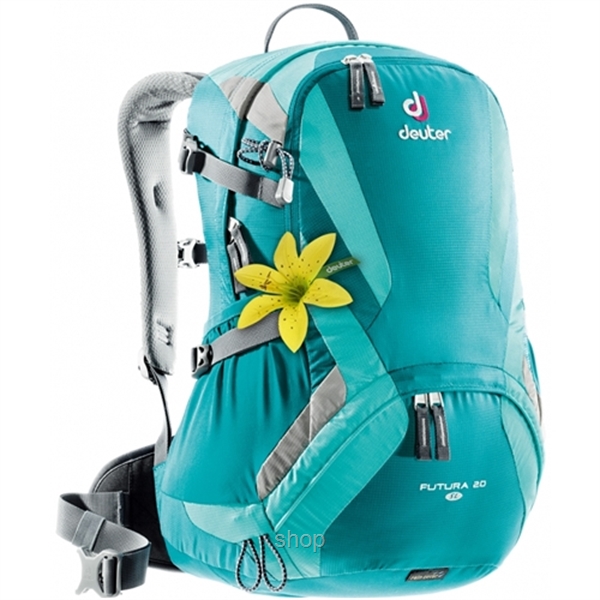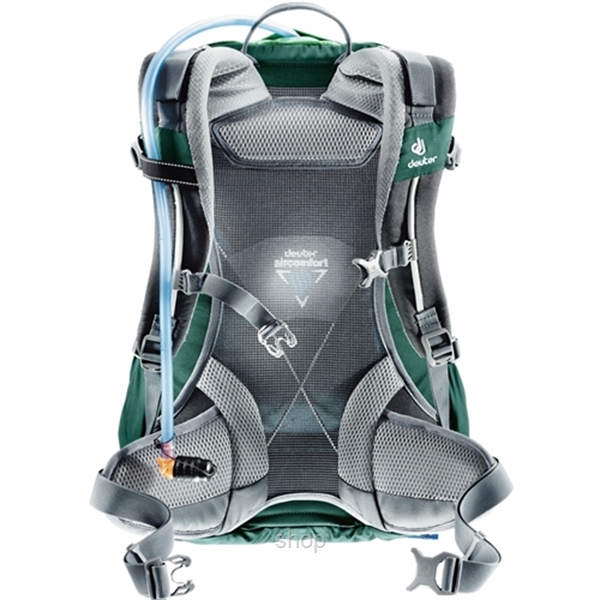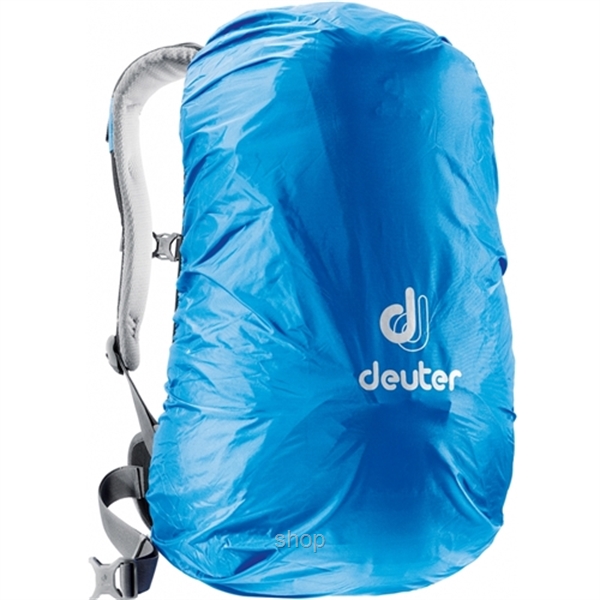 2 Year Warranty By Deuter

Product Description

A female specific backpack for day hikes, office or shopping tours. The women's rucksack comes in a clean, athletic look and features the lightweight, ergonomic Aircomfort FlexLite back system, which ensures three-sided ventilation and a snug fit.
Features
hip pads and shoulder straps with soft, breathable Soft Air Mesh lining
shoulder straps with load adjustment straps
side compression straps for volume regulation
practical front pocket
stretch side pockets
wet laundry compartment
hiking pole loops
reflective loop for safety light
reflective attachment for drinking tube
separate bottom compartment
detachable rain cover
hydration system compatible
Backsystem
Deuter Aircomfort FlexLite System
Anatomically formed shoulder straps with perforated foam and large-celled 3D AirMesh lining to make them airy.
Twin-frame construction gives the Aircomfort Flexlite System its special lightweight properties at the same time as guaranteeing excellent flexibility and ergonomic fit. The secret lies in the combination of complimentary round and flat spring steel frame profiles. It easily follows body movements and transfers the load perfectly to the hip fins. It also gives the back mesh a stable tensioned platform for the patented Deuter 3-sided ventilation system.
Load adjustor straps enable exact backpack positioning.
Anatomically shaped, sturdy hip fins transfer the load to the hips. Perorated foam and oversized cell 3D AirMesh lining provide additional ventilation.
SL Women's Fit System
Soft edges to the straps, smaller buckles and narrow tapered strap ends prevent the SL shoulder straps from chafing under the arms and eliminate pressure points in the chest area.
On average, women's backs are not quite as long as men's. The SL carry system is thus slightly shorter than that of Deuter's standard rucksacks. Conse quently, the models in the SL series are the ideal choice, too, for male users with shorter backs.
This conical form is achieved by angling the belt diagonally upwards and by
curving the SL waist belt wings. The frontal adjuster system feature of our larger volume rucksacks simplifies the waist belt fitting procedure.
To take account of the narrower shoulder width of the female anatomy, and thus prevent slippage, the SL shoulder straps are both narrower and shorter in length.
In order to give a perfect anatomic fit around the upper body, the SL shoulder straps are both narrower and shorter in length.
In general, the female waist and hip area is also shaped differently, so in order for the waist belt to deliver a perfect anatomic fit when fastened, it should ideally have a conical shape.
Material
Deuter-Super-Polytex

Made from 600 den Polyester thread and with a thick PU coating, this multi-purpose fabric is robust and lightweight. It is most suitable for backpacks, used in average conditions to keep the weight to a minimum.
Macro Lite 210

We use the Nylon material in hard wearing 420 denier and 210 denier density. Special high density denier polyamide offers high abrasion resistance with it's very tight weave. This top quality fabric is used for Guide backpacks and Travel range models. PU coating.
Product Highlight
Deuter Warranty Registration Form
This Deuter product comes with a limited lifetime warranty by Deuter Malaysia. For your most complete protection (warranty) on your Deuter products, you may register your product in the link below. (Click on Deuter Logo for warranty registration).
Weight
1110 g
Volume
20 litre
Size
48 / 30 / 19 (H x W x D) cm
Material
Deuter-Super-Polytex
Macro Lite 210
Please note that the currency currently used for transactions at HOUSE of DISCOUNTS Official Store is Malaysia Ringgit (MYR). Please refer to the details as below for your payment options.
Domestic: Payment must be made before item delivered. HOUSE of DISCOUNTS Official Store only accepts NetPay because of the protection and security of customer. By using NetPay, we can confidently provide customers with a reliable and secure online checkout experience which is just few simple clicks and steps.

We will be informed by system automatically about your payment once you have paid by Netpay (either by Internet banking or Credit Card).
Your order is shipped directly from the HOUSE of DISCOUNTS warehouse via Poslaju or any other reputable courier service. International shipping via DHL is available to all major Countries.
Same Day Shipping*
In most cases we are able to ship the same day (Monday - Friday), provided the order is placed before 3.00pm (GMT +08.00). We cannot guarantee this but make every efforts to do so.
Same day shipping doesn't apply to:
International Orders.
Orders placed on Saturdays, Sundays, or holidays.
Orders for large props or Special Order items.
How are shipping and handling charges determined?
Shipping and handling rates are determined by the total weight / dimension of all of the merchandise ordered. Free shipping available for selected items with a promotion and will be clearly indicated on the product posting.
Please Note:
In all domestic shipping options, Business Days are weekdays, Monday-Friday, excluding Saturday, Sunday and holidays. Selected products will not be shipped on the every first Friday of the month to avoid any miscarriage occurring.
Domestic shipment (Within Malaysia): Shipping may take 1-2 business days from the date of shipment.
International shipment: Transit times from Malaysia may take 2 - 5 business days, and can vary based on DHL tariff zones from the date of shipment.
All transit times specified by DHL are subject to Customs clearance.
Custom duties and taxes are not included in shipping charges as stated.
International Shipping:
Once you have entered your shipping information, shipping rates will be determined based on the estimated weight of your order including shipping materials, and your zip code.
Damages and Missing Items
If you have received an item that has been damaged or have missing items from your order, contact us via phone call or email within 3 business days of receipt. Keep all items, boxes, and packing material shipped to you for inspection. For damages, you will need to provide us a description and photos of the damage to the item as well as the condition of any packaging via email. In the event that an order contains damaged or defective items for which a customer does not wish a replacement, the customer will be responsible for returning the items according to the return policy.
For missing items, please make sure you have removed all packing material from the shipping box to confirm that the item was not hidden from view. Sometimes small items are shipped inside other items to protect them during shipping. If your order required multiple boxes to ship, it may be helpful to check the tracking information to confirm that all packages have been delivered.
Out-of-Stock Products
We take every measure to ensure that the products we offer are in stock. However, from time-to-time we may sell out situation for a particular item. If the item you ordered is out of stock, we will notify you within one business day of your order.
Standard Shipping Time Frame for Malaysia Deliveries:
For order in Cash Term Basis (Payment via Maybank2u, online transfer or cash bank-in), items will be deliver within 3 - 5 working days from the date of order received.
For Credit card payment, House of Discounts will verify and process your order within 10 - 14 working days from the date of order received.
Not applicable to out-of-stock or on-order items.
House of Discounts reserved the rights to cancel or reject any transaction.
If you have any concerns, questions or comments, please contact us at:
hod@lmall.my
Please read the following Terms of Use carefully before using this website. Your use of the HOUSE of DISCOUNTS website constitutes your agreement to following rules. HOUSE of DISCOUNTS reserves the right, at any time, to modify, alter or update these Terms. You agree to be bound by any modifications, alterations or updates.
Copyrights and Trademarks
The HOUSE of DISCOUNTS website, design, text and graphics, and the HOUSE of DISCOUNTS logo are copyrighted. The HOUSE of DISCOUNTS name, website and logo may not be used in any way without prior, written permission from HOUSE of DISCOUNTS.
Some product materials, company names and logos contained within this site are Copyright by the original owner and may be Trademarks of their respective owners.
Use of the Site
HOUSE of DISCOUNTS grants permission to view this site and to print hard copy portions of this site for your personal use. By doing so, you agree to all HOUSE of DISCOUNTS policies and the rules stated within our Terms of Use. You are prohibited from reproducing, modifying, distributing, publishing, translating, aggregating, collecting, selling, gathering and mining any information and/or data contained within this site. This site should only be used as a shopping and information resource. Your interactions with individuals and/or organizations found on this site (including interactions from using the Classifieds section), are solely between you and such organizations and/or individuals. This includes, but is not limited to, payment and delivery of goods, terms, conditions and/or warranties.
HOUSE of DISCOUNTS permits you to display or create a hyperlink on your website or personal web blog to individual postings as long as it is for non-commercial purposes only HOUSE of DISCOUNTS reserves the right to refuse or remove any submission or posting that violates our standards.
Product Information and Orders
The information on this site may contain typographical errors or inaccuracies and may not be complete or current. Such errors, inaccuracies or omissions may relate to product description, product picture, pricing and availability. In the event an error occurs, it will be corrected immediately. HOUSE of DISCOUNTS reserves the right to revoke any stated offer and to correct any errors, inaccuracies or omissions (including after an order has been submitted).
Pricing Error Policy
If we found any errors on the price for any items listed in HOUSE of DISCOUNTS Official Store, we reserved the right to amend the price of the products even the order has been paid. We will then request buyers to confirm again if they agreed to the newly revised prices. If they do not agreed to the revised price, order will be cancel and money will be refunded to buyer in full.
External Links
The HOUSE of DISCOUNTS website may contain links to other sites. HOUSE of DISCOUNTS is not responsible for the privacy practices of such sites and accepts no responsibility regarding the quality, nature and reliability of such sites.
Flash Sale Payment
Payment of the Flash Sale item order(s) must made immediately in order to secure the order(s). Otherwise, the order(s) will be cancelled
All the Flash Sale items are limited quantity and based on first come first serve.
Product Quality Assurance:
WE ARE PROUD TO ASSURE THE QUALITY of everything we sell. All official items sold are not refundable, returned, transferred or exchanged. You may only return your order due to any of the following reasons:
| | |
| --- | --- |
| Reasons | Description |
| Damaged | The product damaged in delivery |
| Manufacturing Defects | The product does not function as described in its manufacturer specification |
| Incorrect / wrong item | Not the product the customer ordered (e.g. wrong size, wrong color or wrong model) |
For all returns, please read the following information clearly. If you do not fully agree or understand the following information, please contact us before purchasing.
General Notes:
Any return received with missing items or without original packaging will not be credited.
The following items are NEVER returnable:

Any item that has been worn, used or altered.
Items that require special delivery.

If you attempt to return an item, which is not returnable, the item will be shipped back to you, and you will be charged the cost of shipping for sending it back.
Return Instructions:
Subject to the General Notes above, if something needs to be returned, you should contact us within 3 days of receiving your item. Please include the order number, email address and problem in all correspondence. Provided the return is allowable under our policy, you will receive a Return Authorization number (RA#). This number should be printed and sent to us along with the item to be returned.
Returns must be sent back to us only via reliable and traceable shipping methods. You are responsible for the return shipping costs. Returned merchandise must be post marked within 7 days from the date you receive your RA number. House of Discounts will not be responsible for refunding an untraceable packaged item. Refunds are for the cost of merchandise only. House of Discounts does not refund shipping and handling charges.
Refunds generally take 7 days, however may take up to 30 days to complete during peak times. We will NOT accept returns of items with obvious signs of use. If you return items in used condition, you will be responsible for the cost to have them shipped back to you.
When your shipment arrives:
When you receive your shipment, please open and inspect merchandise on the same day as delivered. Try on any wearable items and if there are issues please contact us immediately.
Package / Merchandise that arrived damaged in transit must be reported to us the same day. Please have the delivery driver make a note if the package they deliver shows signs of damage before signing for it.
Refunds:
Refunds will be issued in the same method of payment as the original payment. Purchase made with cash: a cash refund will be issued. Purchase made with a credit card: a credit will issued to the original card.
Once we receive your return package, your refund will be processed within 10 business days. Please allow another 2 to 4 business days for the credit to post to your credit card account, and an additional 1 to 2 billing cycles for the credit to appear on your billing statement as each bank's processing time varies. Credit will be issued for the original amount that was paid for the merchandise, excluding shipping fees. Refunds will be issued in the original form of payment only.
Please email us at hod@lmall.my to assist you for return and refunds.
Average Product Rating
0.0 stars out of 5
0 rating(s) 0 review(s)
| | | |
| --- | --- | --- |
| 5 stars | | 0 |
| 4 stars | | 0 |
| 3 stars | | 0 |
| 2 stars | | 0 |
| 1 star | | 0 |
Share your thoughts with others
Write a review
Only buyers who purchased the product may leave a review