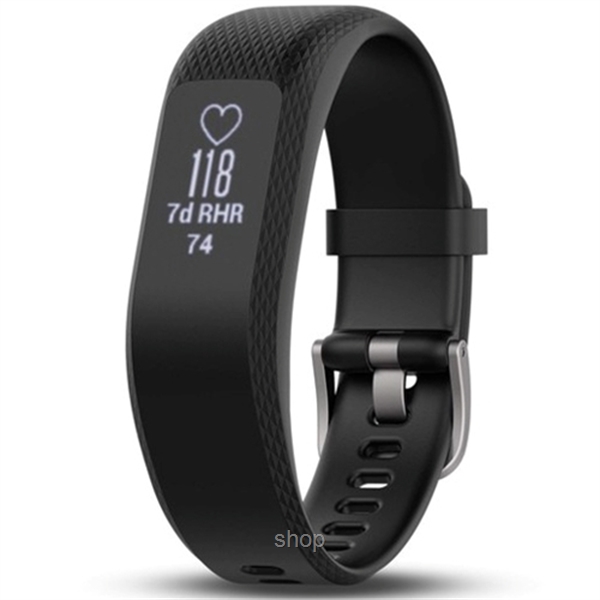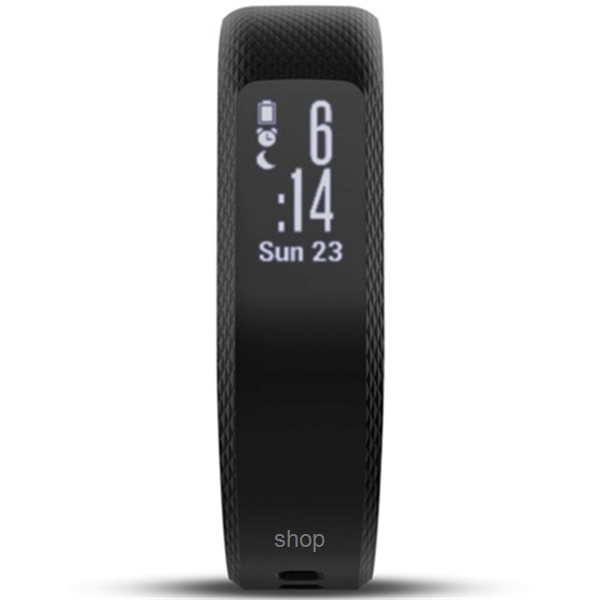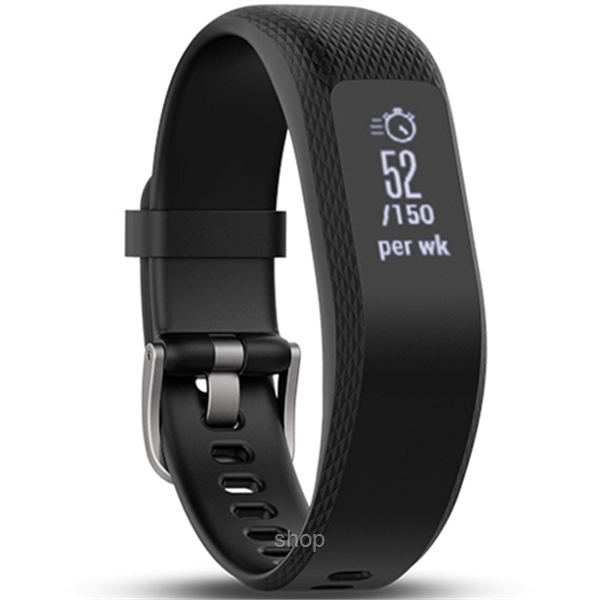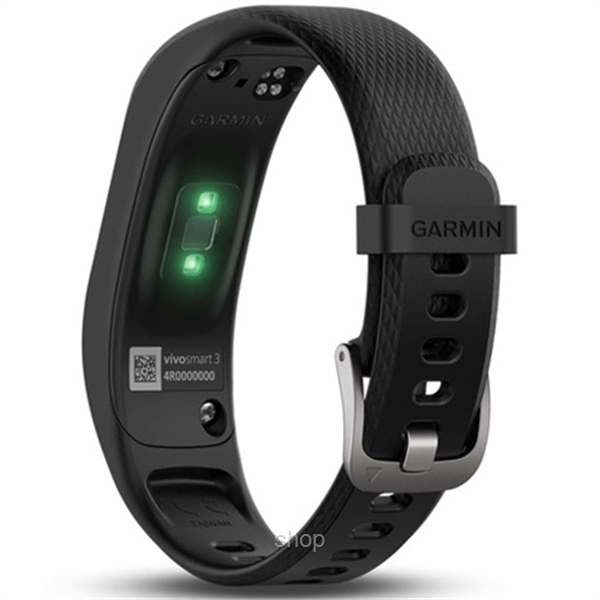 2 Year Warranty By Garmin


Product Description

Smart Activity Tracker with Wrist-based Heart Rate and Fitness Monitoring Tools
Includes fitness monitoring tools such as VO2 max, fitness age and strength training
Monitor wellness with all-day stress tracking and the relaxation-based breathing timer
24/7 heart rate monitoring with Elevate wrist heart rate technology
Tracks steps, floors climbed, calories burned, intensity minutes, sleep and more
Safe for swimming and showering
Battery life: up to 5 days
Your activity tracker doesn't define you, but what you do with it certainly can. That's why vívosmart 3 features a discreet but attractive profile to help it fit right in with any fashion, and its smart features keep you on your toes. Track activity, monitor your heart rate, get smart notifications4, and even access detailed fitness monitoring tools such as VO2 max estimate and your fitness age.
Subtle, Stylish and Smart
Your sense of style is uniquely you. Let vívosmart 3 complement that style without trying to overshadow it. Featuring a slim, inconspicuous band, vívosmart 3 is as hip as anything in your closet. Even better, it's a master of subtlety. The tracker's hidden display is only visible when you want it to be. When you're not using it, it disappears into the device. It's the perfect companion for the office, the gym, the pool and everywhere in between.
Daily Fitness Monitoring
Thanks to Elevate wrist-based heart rate technology, vívosmart 3 activity tracker is full of great features that let you get a better idea of your current fitness level. For example, it's our first dedicated activity tracker to offer VO2 max estimate. It can even estimate your fitness age, which you may be able to decrease over time with hard work and regular exercise.
Wellness Monitoring
Vivosmart 3 tracks heart rate variability (HRV), which is used to calculate and display your stress level. You can look at this graph right on your device anytime you're sitting or at rest. When the level starts to move up, it indicates that your stress is getting higher. What causes this? Any number of physical or emotional external sources. vívosmart 3 helps you recognize when this is happening so you can find a way to relieve the stress, for example, by using the relaxation-based breathing timer, built right into the stress widget. Based on the Fourfold breathing technique, it offers a 1 to 5 minute guided breathing exercise.
Automatic Activity Tracking
vívosmart 3 activity tracking capabilities include steps, floors climbed, calories burned, intensity minutes and more. Move IQ automatically detects exercises such as walking, swimming, cycling and elliptical training. It can also automatically start a timed walk or run activity. So you're free to get up, get moving, and let vívosmart 3 capture your active life. As always, you can review your activities later on Garmin Connect, our online community.
Your Personal Rep Counter
Gym rats, rejoice. We're adding a companion to your workout - or more specifically, a companion that's great at keeping count. When you start a strength training activity on vívosmart 3, the device will capture your exercises, reps and sets along with your work and rest times so you can leave the notebook at home. That data gets pushed to Garmin Connect during your next sync so you can review your workout in even greater detail.
Smart Notifications and Smarter Features
To help keep up with your busy lifestyle, you can view emails, text messages and social network notifications right on your wrist. Other features that help you stay linked with life include automatic uploads to Garmin Connect and compatibility with TrueUp, which lets you synchronize multiple activity trackers. The ability to find your phone and music controls are also available right at the wrist.
Connect and Compete
Keeping an eye on your activities and achievements is easy. vívosmart 3 activity tracker automatically syncs to Garmin Connect, our online community where you can review your progress, join challenges and even share via social media. Garmin Connect is free and available on the web or on your smartphone with the Garmin Connect Mobile app.
In the Box
Vivosmart 3 smart activity tracker
Charging/data cable
Manuals
General
Strap material
Silicone
Physical size
Width: 18.5 mm
Thickness: 9.8 mm
Large: Length (223mm), Circumference (148-215mm)
Weight
Large: 21.5 g
Water rating
Yes (swim)
Battery type
Rechargeable lithium
Touchscreen
Yes
Display type
OLED
Display size
0.38" x 0.76" (9.6 mm x 19.2 mm)
Display resolution
64 x 128 pixels
Battery life
Up to 5 days
Memory/history
7 timed activities, 14 days of activity tracking data
Clock Features
Time/date
Yes
Automatic daylight saving time
Yes
Alarm clock
Yes
Timer
Yes
Stopwatch
Yes
Sensors
Garmin Elevate wrist heart rate monitor
Yes
Barometric altimeter
Yes
Accelerometer
Yes
Ambient light sensor
Yes
Daily Smart Features
Connectivity
Bluetooth Smart and ANT+
Smart notifications
Yes
Weather
Yes
Music controls
Yes
Find my Phone feature
Yes
VIRB remote
Yes
Smartphone compatibility
iPhone, Android, Windows
Compatible with Garmin Connect Mobile
Yes
Find My Watch feature
Yes
Activity Tracking Features
Step counter
Yes
Move bar (displays on device after a period of inactivity; walk for a couple of minutes to reset it)
Yes
Auto goal (learns your activity level and assigns a daily step goal)
Yes
Sleep monitoring (monitors total sleep and periods of movement or restful sleep)
Yes
Calories burned
Yes
Floors climbed
Yes
Distance traveled
Yes
Intensity minutes
Yes
TrueUp
Yes
Move IQ
Yes
Training, Planning and Analysis Features
Activity history on watch
Yes
Customizable alerts
Yes
Auto Lap
Yes
Customizable data pages
Yes
Fitness Age
Yes (in app)
V02 max
Yes
Vibration alerts
Yes
Heart Rate Features
HR zones
Yes
HR alerts
Yes
HR calories
Yes
% HR max
Yes
HR Broadcast (broadcasts HR data over ANT+ to paired devices)
Yes
Please note that the currency currently used for transactions at HOUSE of DISCOUNTS Official Store is Malaysia Ringgit (MYR). Please refer to the details as below for your payment options.
Domestic: Payment must be made before item delivered. HOUSE of DISCOUNTS Official Store only accepts NetPay because of the protection and security of customer. By using NetPay, we can confidently provide customers with a reliable and secure online checkout experience which is just few simple clicks and steps.

We will be informed by system automatically about your payment once you have paid by Netpay (either by Internet banking or Credit Card).
Your order is shipped directly from the HOUSE of DISCOUNTS warehouse via Poslaju or any other reputable courier service. International shipping via DHL is available to all major Countries.
Same Day Shipping*
In most cases we are able to ship the same day (Monday - Friday), provided the order is placed before 3.00pm (GMT +08.00). We cannot guarantee this but make every efforts to do so.
Same day shipping doesn't apply to:
International Orders.
Orders placed on Saturdays, Sundays, or holidays.
Orders for large props or Special Order items.
How are shipping and handling charges determined?
Shipping and handling rates are determined by the total weight / dimension of all of the merchandise ordered. Free shipping available for selected items with a promotion and will be clearly indicated on the product posting.
Please Note:
In all domestic shipping options, Business Days are weekdays, Monday-Friday, excluding Saturday, Sunday and holidays. Selected products will not be shipped on the every first Friday of the month to avoid any miscarriage occurring.
Domestic shipment (Within Malaysia): Shipping may take 1-2 business days from the date of shipment.
International shipment: Transit times from Malaysia may take 2 - 5 business days, and can vary based on DHL tariff zones from the date of shipment.
All transit times specified by DHL are subject to Customs clearance.
Custom duties and taxes are not included in shipping charges as stated.
International Shipping:
Once you have entered your shipping information, shipping rates will be determined based on the estimated weight of your order including shipping materials, and your zip code.
Damages and Missing Items
If you have received an item that has been damaged or have missing items from your order, contact us via phone call or email within 3 business days of receipt. Keep all items, boxes, and packing material shipped to you for inspection. For damages, you will need to provide us a description and photos of the damage to the item as well as the condition of any packaging via email. In the event that an order contains damaged or defective items for which a customer does not wish a replacement, the customer will be responsible for returning the items according to the return policy.
For missing items, please make sure you have removed all packing material from the shipping box to confirm that the item was not hidden from view. Sometimes small items are shipped inside other items to protect them during shipping. If your order required multiple boxes to ship, it may be helpful to check the tracking information to confirm that all packages have been delivered.
Out-of-Stock Products
We take every measure to ensure that the products we offer are in stock. However, from time-to-time we may sell out situation for a particular item. If the item you ordered is out of stock, we will notify you within one business day of your order.
Standard Shipping Time Frame for Malaysia Deliveries:
For order in Cash Term Basis (Payment via Maybank2u, online transfer or cash bank-in), items will be deliver within 3 - 5 working days from the date of order received.
For Credit card payment, House of Discounts will verify and process your order within 10 - 14 working days from the date of order received.
Not applicable to out-of-stock or on-order items.
House of Discounts reserved the rights to cancel or reject any transaction.
If you have any concerns, questions or comments, please contact us at:
hod@lmall.my
Please read the following Terms of Use carefully before using this website. Your use of the HOUSE of DISCOUNTS website constitutes your agreement to following rules. HOUSE of DISCOUNTS reserves the right, at any time, to modify, alter or update these Terms. You agree to be bound by any modifications, alterations or updates.
Copyrights and Trademarks
The HOUSE of DISCOUNTS website, design, text and graphics, and the HOUSE of DISCOUNTS logo are copyrighted. The HOUSE of DISCOUNTS name, website and logo may not be used in any way without prior, written permission from HOUSE of DISCOUNTS.
Some product materials, company names and logos contained within this site are Copyright by the original owner and may be Trademarks of their respective owners.
Use of the Site
HOUSE of DISCOUNTS grants permission to view this site and to print hard copy portions of this site for your personal use. By doing so, you agree to all HOUSE of DISCOUNTS policies and the rules stated within our Terms of Use. You are prohibited from reproducing, modifying, distributing, publishing, translating, aggregating, collecting, selling, gathering and mining any information and/or data contained within this site. This site should only be used as a shopping and information resource. Your interactions with individuals and/or organizations found on this site (including interactions from using the Classifieds section), are solely between you and such organizations and/or individuals. This includes, but is not limited to, payment and delivery of goods, terms, conditions and/or warranties.
HOUSE of DISCOUNTS permits you to display or create a hyperlink on your website or personal web blog to individual postings as long as it is for non-commercial purposes only HOUSE of DISCOUNTS reserves the right to refuse or remove any submission or posting that violates our standards.
Product Information and Orders
The information on this site may contain typographical errors or inaccuracies and may not be complete or current. Such errors, inaccuracies or omissions may relate to product description, product picture, pricing and availability. In the event an error occurs, it will be corrected immediately. HOUSE of DISCOUNTS reserves the right to revoke any stated offer and to correct any errors, inaccuracies or omissions (including after an order has been submitted).
Pricing Error Policy
If we found any errors on the price for any items listed in HOUSE of DISCOUNTS Official Store, we reserved the right to amend the price of the products even the order has been paid. We will then request buyers to confirm again if they agreed to the newly revised prices. If they do not agreed to the revised price, order will be cancel and money will be refunded to buyer in full.
External Links
The HOUSE of DISCOUNTS website may contain links to other sites. HOUSE of DISCOUNTS is not responsible for the privacy practices of such sites and accepts no responsibility regarding the quality, nature and reliability of such sites.
Flash Sale Payment
Payment of the Flash Sale item order(s) must made immediately in order to secure the order(s). Otherwise, the order(s) will be cancelled
All the Flash Sale items are limited quantity and based on first come first serve.
Product Quality Assurance:
WE ARE PROUD TO ASSURE THE QUALITY of everything we sell. All official items sold are not refundable, returned, transferred or exchanged. You may only return your order due to any of the following reasons:
| | |
| --- | --- |
| Reasons | Description |
| Damaged | The product damaged in delivery |
| Manufacturing Defects | The product does not function as described in its manufacturer specification |
| Incorrect / wrong item | Not the product the customer ordered (e.g. wrong size, wrong color or wrong model) |
For all returns, please read the following information clearly. If you do not fully agree or understand the following information, please contact us before purchasing.
General Notes:
Any return received with missing items or without original packaging will not be credited.
The following items are NEVER returnable:

Any item that has been worn, used or altered.
Items that require special delivery.

If you attempt to return an item, which is not returnable, the item will be shipped back to you, and you will be charged the cost of shipping for sending it back.
Return Instructions:
Subject to the General Notes above, if something needs to be returned, you should contact us within 3 days of receiving your item. Please include the order number, email address and problem in all correspondence. Provided the return is allowable under our policy, you will receive a Return Authorization number (RA#). This number should be printed and sent to us along with the item to be returned.
Returns must be sent back to us only via reliable and traceable shipping methods. You are responsible for the return shipping costs. Returned merchandise must be post marked within 7 days from the date you receive your RA number. House of Discounts will not be responsible for refunding an untraceable packaged item. Refunds are for the cost of merchandise only. House of Discounts does not refund shipping and handling charges.
Refunds generally take 7 days, however may take up to 30 days to complete during peak times. We will NOT accept returns of items with obvious signs of use. If you return items in used condition, you will be responsible for the cost to have them shipped back to you.
When your shipment arrives:
When you receive your shipment, please open and inspect merchandise on the same day as delivered. Try on any wearable items and if there are issues please contact us immediately.
Package / Merchandise that arrived damaged in transit must be reported to us the same day. Please have the delivery driver make a note if the package they deliver shows signs of damage before signing for it.
Refunds:
Refunds will be issued in the same method of payment as the original payment. Purchase made with cash: a cash refund will be issued. Purchase made with a credit card: a credit will issued to the original card.
Once we receive your return package, your refund will be processed within 10 business days. Please allow another 2 to 4 business days for the credit to post to your credit card account, and an additional 1 to 2 billing cycles for the credit to appear on your billing statement as each bank's processing time varies. Credit will be issued for the original amount that was paid for the merchandise, excluding shipping fees. Refunds will be issued in the original form of payment only.
Please email us at hod@lmall.my to assist you for return and refunds.
Average Product Rating
0.0 stars out of 5
0 rating(s) 0 review(s)
| | | |
| --- | --- | --- |
| 5 stars | | 0 |
| 4 stars | | 0 |
| 3 stars | | 0 |
| 2 stars | | 0 |
| 1 star | | 0 |
Share your thoughts with others
Write a review
Only buyers who purchased the product may leave a review